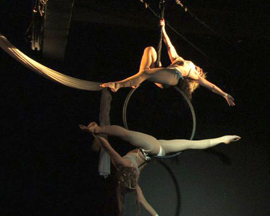 Simonne and Katie for Seattle Gold
Seattle Aerial Arts is a resource for event planners who want to hire performers, private or corporate clients who need aerial performers for an event, and to venue owners who need entertainers to perform in their restaurant or nightclub.
Seattle Aerial Arts is very interested in performers who want to enhance their performance presentation. We partner with CYRCUS.ORG to locate and rig venues for professionals as well as our advanced students to perform.
We have a unique and comprehensive understanding of the human body and how it functions, both from a neurobiological perspective, as well as from the anatomical and also the body in relationship to the physical world.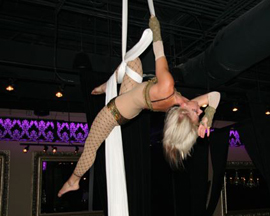 Simonne at Suite in Bellevue
Performances
Our free performances include Suite Lounge in the Wintergarden Plaza of the Hyatt Hotel in Bellevue each Friday and Saturday evenings.
We also present a show once a month on Wednesday evenings at ShadowLand in West Seattle.
In March we will begin to present a show for the First Thursday Pioneer Square Art Walk at The Box House.
For more information please email us: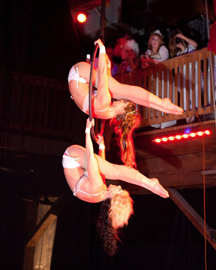 Simonne and Katie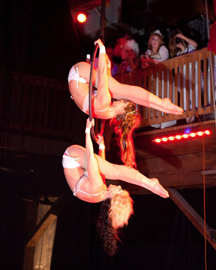 Simonne and Katie