Simonne and Lauren at Seattle Center
Aerial Fundamentals
As our main page affirms, all classes are for all levels and some not only for aerialists.
From the Aerial Fundamentals class, we recruit fresh blood for our performance troupe CYRCUS.ORG
Aerial Fundamentals is a two hour class, 1/2 discussion and 1/2 on the aerial equipment. Usually a silk or a rope.
You may be a dancer now and that will not change, but you will also be an aerialist. The discussion is about sensory awareness and the characteristics of the physical world, such as perception of weight and measures and the ever present gravity.
The physical portion of the class greatly depends in the students interest and experience. However, the class is open to you with ANY experience in ANYTHING that you want to perform. The only caveat is that you must be invited (each week) to join the class, originally nominated by someone in the class. The rest is up to you.
Class time 7pm to 9pm every Wednesday at ShadowLand in West Seattle. There is no monetary cost for this class, only your energy and commitment to the process.

Simonne
Please email us: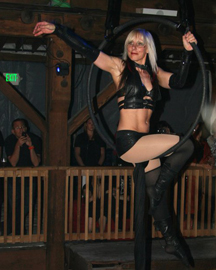 Simonne solo hoop