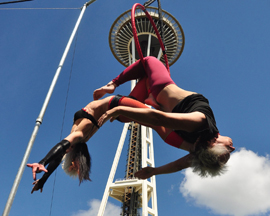 Simonne and Bruce at Seattle Center
Seattle Aerial Arts Instructors
Bruce Magnotti
has been a performer since his early teens. He started producing, directing, and performing in shows in high school and has been involved in theater and performance art ever since.
He was the make-up director, a performer, photographer, videographer, and equipment procurer for a 35 member drama troupe that traveled throughout Europe and the Middle East playing at 20 different venues such as the Jerusalem Theater and the Hamburg Opera House.
Bruce was a member of a performance karate team that traveled throughout the U.S. and played at numerous venues in 15 states.
Bruce has performed in over 20 theatrical productions and has directed and produced numerous performance events in the Seattle area.
He worked with the Little Red Studio Troupe for five years before taking over the Little Red Theater venue to present a series of sold out themed performance events up to the closing of the venue in 2010.
In 2008 Bruce and Simonne co-founded a non profit group, Seattle Gold to encourage accomplished amateurs to perform with seasoned professionals and recently launched Cirque du Trois to book aerial and other circus acts throughout the Seattle area.

Bruce and Simonne at the houseboat
Contact Us
Please email us:

Simonne and Bruce at Circus of Dreams