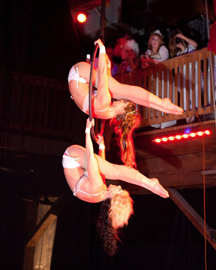 Simonne and Katie
Our Performance aerial arts class is a free form class that views performance from a more energetic perspective.
What does it take to be a great performer?
In summary the performer needs to know how to get into the "zone". Many athletes and performers know exactly how it feels to be in the zone, but there is not much instruction "out there" concerning basic methods for getting into that state of mind.
Our instruction focuses on basic fundamentals of aerial arts and movement in general, and we focus on the grace, poise, and style of movement in the aerial arts.
Seattle Aerial Arts is very interested in performers who want to enhance their performance presentation. We partner with Cirque du Trois and Seattle Event Planners to locate and rig venues for professionals as well as our students to perform.
And so we make this class both interesting and comprehensive.
Basic skills, transitions, sequences, routines, music, costume, audience integration, are all covered as well as the more esoteric aspects such as attitude, professionalism, and interactions with other performers.
Please visit the instructors page for information about individual Seattle Aerial Arts teachers.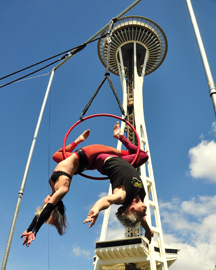 Simonne and Bruce at Seattle Center
Contact Us
Please email us:

Simonne and Katie at RepubliQ