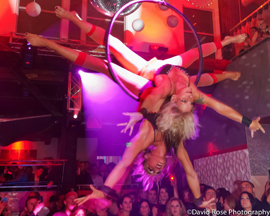 Simonne and Katie at RepubliQ
Aerial Arts Playground
Aerial Arts Playground is a class focused on the simple enjoyment of playing and expressing on the aerial apparatus. Remember when you were a little kid? Jumping off playground swings and flying into the sand, climbing on jungle gyms, climbing trees, even climbing fences you were warned to stay off of?
If these memories are still fresh in your mind, or if you need reminding, Aerial Playground is a great class to attend. We teach beginners, those who have never climbed an aerial apparatus, and we train advanced students toward performance and even a professional career as an aerialist. Remember, however, that fun can be dangerous, and often danger can add to the fun. But the aerial arts is a sport and activity that can cause severe injury, even death.
Introductory level students are taught simple aerial arts fundamentals using the rope and silks as well as the hoop and trapeze. Bruce and Simonne encourage students to learn the basics so they can quickly "graduate" to an intermediate level.
All of our classes are aimed at personal growth, fitness, and enlightened present moment awareness. This class introduces concepts of enlightenment from a more practical perspective, a deeper understanding of the physical world that we live in.
The current science of physics introduces us to a new way of relating to gravity and our own physical form identity. We use the term "enlightenment" as a way to perceive the body as physically lighter, rather than a traditional spiritual perception. Our energetic relationship with our bodies and gravity are discussed and practiced in this class.
The instructors, Simonne and Bruce, have a unique and comprehensive understanding of the human body and how it functions, both from a neurophysiological perspective, as well as from the anatomical perspective. The addition of the "spiritual" perspective is something that creates a unique environment for learning and improving technique, style, and personal expression.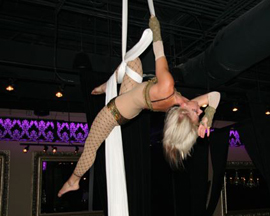 Simonne at Suite Lounge in Bellevue
Contact Us
Please email us:

Simonne and Bruce at the houseboat